It's no surprise that Extreme Ithaca Liberals think America isn't great #ExtremeIthacaLiberal
REED CAMPAIGN STAFF TARGETED BY MITRANO SUPPORTERS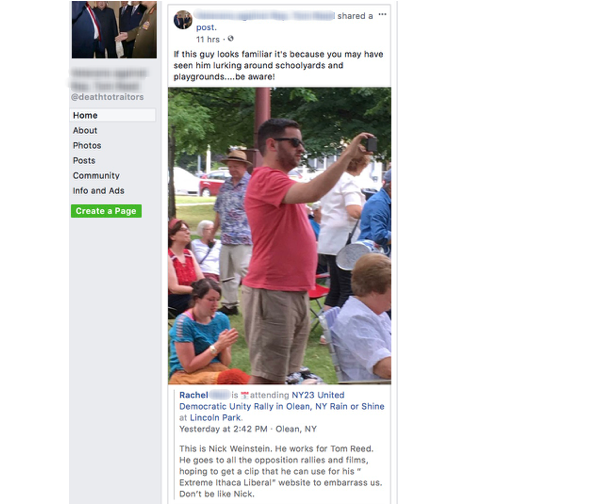 "As an elected official, I have come to accept all that goes with it. That unfortunately includes unfair, baseless personal attacks against me and my family," said Tom Reed. "But to harass and threaten members of my staff is completely unacceptable. These actions are cruel, petty, and concerning, and reflect the extremism of our opposition. Such extremism must end."
"It was surprising to see such hateful rhetoric resulting from an event that was billed as a 'Unity Rally'," said Nicholas Weinstein, Campaign Manager for Tom Reed for Congress. "When my colleagues and I attend events, we are courteous even if we fundamentally disagree. We will continue to respectfully engage on the issues and look forward to working every day to earn the support of every voter in the 23rd Congressional District."
The threats to Reed's staff come just weeks after Maxine Waters encouraged harassment of public servants, telling a crowd of protestors:

"Let's make sure we show up wherever we have to show up. And if you see anybody from [President Trump's] Cabinet in a restaurant, in a department store, at a gasoline station, you get out and you create a crowd. And you push back on them. And you tell them they're not welcome anymore, anywhere.

Citizens for a Better Southern Tier is the protest group that controversially held up a Nazi flag and compared Republicans that support Donald Trump to Germans who supported Adolf Hitler.
Extreme Ithaca Liberals are desperately trying to hide their anti-Second Amendment agenda from the voters.
Protest Organizer Caught Stealing Campaign Signs
Charged With Misdemeanor Larceny After Admitting To Thefts
A leader of the group Citizens for a Better Southern Tier, affiliated with the national Indivisible "resistance" movement was caught last week stealing yard signs belonging to Tom Reed for Congress.
​After being confronted at his residence, Gary McCaslin, a regular leader of protests against Tom Reed, admitted to taking many signs along with a fellow Citizens for a Better Southern Tier organizer Marshall Hyde but could only produce a single sign when pressed with the threat of involving the police.
It was after getting back to the car that we realized the sign he had given us did not include the tracker that lead us to his house. And so, we confronted him at his front door a second time.
​Before slamming the door in our face, but after being caught twice lying about it, he said that he would not be returning the tracker and that we should call the police.
​​So we did.
​And, after law enforcement reviewed our videos, Gary McCaslin was charged with petit larceny, punishable by up to a year in jail and a one thousand dollar fine.
​This is not the first time that our campaign has caught opponents stealing our signs. A staff member for Tracy Mitrano was caught stealing signs still wearing his campaign sticker, while a resident of the Town of Corning was caught and confronted about her theft of campaign signs.
​Citizens for a Better Southern Tier is the protest group that controversially held up a Nazi flag and compared Republicans that support Donald Trump to Germans who supported Adolf Hitler.
​Nicholas Weinstein, Campaign Manager for Tom Reed for Congress responded to the thefts:
​"It is no surprise that our opponents are resorting to stealing our signs. They know just how far out of touch they are from values the majority of us care about and are willing to go to criminal lengths to try and hide their Extreme Ithaca Liberal agenda from the public."
REED CAMPAIGN RESPONSE TO DEMOCRATIC PRIMARY RESULTS IN NY-23
"It's no surprise that with a field of Extreme Ithaca Liberal options to choose from, the Democrats couldn't make a definitive selection in their Primary on Tuesday," said Nicholas Weinstein, Campaign Manager for Tom Reed for Congress. "With their unanimous support for higher taxes, heroin injection sites in our neighborhoods and government-run socialized medicine, these Extreme Ithaca Liberals have clearly demonstrated to the voters that they are out of touch with our values in the Southern Tier, Finger Lakes and Western New York. We look forward to continuing to highlight how extreme and out of touch they are as they sort through the absentee ballots."
Sharing just a few of our favorite Extreme Ithaca Liberal quotes on Primary Day
Maxine Waters encourages supporters to harass Trump administration officials
IAN GOLDEN FLIP FLOPS ON THE ISSUES
With five Extreme Ithaca Liberal candidates running for Congress, we have heard many issues that they believe are most important: Cleaning up Congress, climate change, minimum wage, campaign finance reform, and infrastructure to name a few.
What's stunning is that every one of those issues is most important to Ian Golden, the Bernie Sanders-approved Extreme Ithaca Liberal who claims to be the only candidate in the race who hasn't changed his tune.
When asked about his top priority, Golden says whatever he thinks you want to hear.
1. Clean up Congress: "My first platform on my website is trying to clean up Congress." (12/8/17)
2. Climate Change: "I think that the largest threat and the most pressing for our future is climate change." (1/28/18)
3. Minimum Wage: "I think what's most important district wide is the living wage careers." (2/19/18)
4. Campaign Finance: "I think if we can't get the big money out of politics, anything I hope to accomplish will be very difficult. So, I guess that would be #1." (6/5/18)
5. Infrastructure: "We must prioritize infrastructure." ("Top Priorities" on website as on 6/19/18)
And when it comes to the Second Amendment, Golden has claimed that he wants to repeal the SAFE Act. Yet, according to the Justice Democrats for whom he is their endorsed candidate, he must support a ban on assault weapons and strict limits to magazine capacity – two pillars of the SAFE Act.
"It's unclear what Extreme Ithaca Liberal Ian Golden would do if elected," said Nicholas Weinstein, Campaign Manager for Tom Reed for Congress. "He's not being honest about his intentions and this type of deception won't sit well with voters in New York's 23rd Congressional District."
DELLA PIA FLIP FLOPS ON THE SECOND AMENDMENT – AGAIN
Sundquist: "We absolutely need to get rid of the NRA in our legislation."
Della Pia: "I disagree. The NRA is a, an ability for people to express their First Amendment rights, we can't eliminate that."
This comes mere weeks after Della Pia declared that the NRA was a domestic threat and one of his primary reasons for running at a forum in Yates County.
WATCH HERE…
Della Pia: "Special interests are a domestic threat to the Constitution, and certainly [the] NRA is one of them."
"With this latest flip flop, Extreme Ithaca Liberal Max Della Pia shows us yet again that he does not deserve the trust of voters in the Southern Tier, Finger Lakes, and Western New York," said Nicholas Weinstein, Campaign Manager for Tom Reed for Congress.
FACEBOOK POSTS RAISE QUESTIONS ABOUT DELLA PIA CANDIDACY
The Second Amendment is a critically important issue for our Extreme Ithaca Liberal opponents. They have all advocated for an agenda that would restrict the Second Amendment rights of law abiding Americans.
Max Della Pia has tried to establish himself as an anti-gun candidate who can breakthrough with pro-gun voters. But with the carefree, smooth way he talks about the guns he owns, it's not going well.
Liz Benjamin: "Are you a gun owner?"
Max Della Pia: "I do have a gun but it's not, like, heavy"
Liz Benjamin: "A rifle?"
Max Della Pia: "It's not a rifle. But I have had rifles in the past."
Right… There's probably a reason the transcript on Della Pia's campaign website doesn't match the audio.
And it isn't just his questionable answer about owning a gun that raises questions.
After Tom Reed voted for H.R. 38 The Concealed Carry Reciprocity Act, legislation that would ensure law abiding Americans with valid Concealed Carry Permits are able to carry across the United States, he said:
Max Della Pia: "I too am against it, but Tom Reed is not, he's never met a gun bill he doesn't like."
And yet, before he began running for Congress as an Extreme Ithaca Liberal his Facebook page tells a different story. There he liked posts from pages like Conservative Daily, Comical Conservative, and Patriot Nation including the following:
Photos liked by Max Della Pia, Patriot Nation: "Why do you need to carry a gun if you aren't expecting to be attacked? I'm not really expecting a fire, but I still have a fire extinguisher. Like = agree."
Washington Post: "Trump plan calls for nationwide concealed carry and an end to gun bans"
"It is unclear what Extreme Ithaca Liberal Max Della Pia actually believes about our Second Amendment rights," said Nicholas Weinstein, Campaign Manager for Tom Reed for Congress. "His Facebook page tells a very different story from what he has been saying on the campaign trail. If he is successful on Tuesday, we look forward to holding him accountable for these flip-flops."